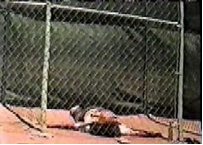 High Impact
High Impact was a brutal bootcamp located outside of Tecate, Mexico. Owned and operated by Miguel Rodriguez and Ali Hernandez as well, co-owned by Dace Goulding, Owner of Casa By the Sea.
The compound consisted of an outside area fenced in by chain link and separated into 3 major sections. The first section contained only an oval track where the children were made to walk/ run laps about 4 – 5 times a day. The other 2 sections were the girls and boys living areas. Each area consisted only of a concrete slab where a large military tent served as housing. At the back, a crude building with a primitive bathroom and a sleeping area for over night staff. At the entrance of each section was a wall of 4 chain link cages resembling of dog cages and a concrete slab used to make fires for food. When the Mexican authorities shut down High Impact in 2001, they cited the conditions as "deplorable".
The concept of the program was to earn points by running laps and listening to a cassette tape about Alcoholics Anonymous, on repeat, several hours a day, while avoiding getting any "consequences" that would demerit nearly a full day's point earnings. The daily experience of detainees in High Impact was nothing short of miserable. They were constantly screamed at by staff, forced to endure excessive exercise 5- 7 hours a day and required to complete pointless manual labor including drawing lines in the sand with their tooth brush, "finger picking" rocks and bits of trash from the sand and carrying and stacking fire wood from one side of the compound to the other (and all back again).
Detainees were expected to obey a very strict set of rules which included not being able to sit, stand, look up from the ground, scratch an itch, or even move in the slightest bit without permission. Detainees were expected to suffer through stress positions sitting on concrete for 5 hours a day. If they could not "follow directions" or if the staff deemed it appropriate for any reason, detainees would be tackled, restrained, and held in the dog cages, or forced to sit or lay in stress positions in the hot desert sun for at least the remainder of the day or for many days following. Often times the staff, particularly the male staff and owner Miguel Rodriguez, would restrain, and sit on top of girls for hours at a time. These men weighed about 300 lbs each, and they would take turns sitting on top of children as young as 12, nearly suffocating them while they contorted their limbs, pulled their hair and ground their chins into the rocky dirt. Injury was common, including burns from the hot sun/ sand and scabs where the skin was completely rubbed off from friction against the rocky sand. Major injuries have been reported as well including spinal injuries, broken jaws and other broken bones during these restraints.
The food consisted of meager meals of boiled oats for breakfast, rice and beans for lunch and a piece of chicken for dinner. Detainees were expected to eat every part of the chicken, including the gizzards and skin which often contained feather spines. If the detainee refused, staff would restrain the child and force the offending parts down their throat. If they vomited, staff would then force them to eat their own vomit. Most detainees lost a considerable amount of weight at High Impact. Although reports vary, on average each student lost 35 – 65 lbs in approximately 60 days.
Reports have cited several serious allegations of rape and attempted murder at the hands of owner Miguel Rodriguez.
High Impact was raided and shut down by Mexican authorities late in 2001. Authorities first caught a glimpse of the compound by helicopter in September 2002 as they collected video and photo evidence of children walking laps and being held in dog cages. A few weeks later the compound was raided by authorities, (said to be both Mexican and American) and the children were shipped back to their parents or (at their parents' request) returned to their original WWASP Programs. Inside Edition reported on this story in 2003.
Miguel Rodriguez and Ali Hernandez returned to work for Casa by the Sea in Ensenada, Mexico until 2004 when it too was raided and shut down.
Today Miguel and Ali still reside in Ensenada, their place of work unknown.
Staff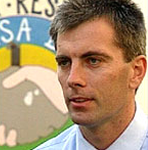 Dace Goulding
Owner of Casa By The Sea and co-owner of High Impact. First worked for Paradise Cove in Samoa. After CBS was closed in 2004 Goulding along with an old High School buddy Rich Darrington, opened another program called Darrington Academy in Blue Ridge Georgia. Darrington Academy was closed and criminal charges were pressed against Rich Darrington, for assault and battery of a minor. At some point he was working in a public school, but currently Goulding reports to be coaching Little League "Back in St. George", which is only about 20 miles away from the Cross Creek Property in La Verkin.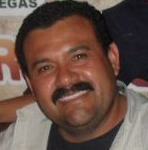 Miguel Rodriguez
Co-Owner and Director of High Impact, Originally worked at Casa by The Sea with his wife, Allie Hernandez. This man is a pedophile and a very violent individual, He is also the mastermind behind the infamous dog cages and the man who would sit on top of kids as they were being restrained in painful arm/ leg locks and stress positions. He has been accused of several major crimes against children at High Impact including assault, rape and attempted murder. Conditions at High Impact were said to be "deplorable" by the Mexican and American authorities that raided and shut down the compound in 2001. Survivors describe High Impact as a boot camp incorporating a  multitude of unreasonable restrictions, excessive exercise and a constant barrage of verbal, and physical attacks. After the closing both Miguel and his wife Ali Hernandez were invited to come back to work for Casa By the Sea, where Miguel was responsible for more assaults on students and Ali assisted in the admissions department. Miguel Rodriguez and Ali Hernandez currently live in Ensenada Mexico.
Survivor Testimony
High Impact – Hell is a Place in Mexico –  By Chelsea Filer
A Long Time Gone – My Journey to High Impact – By Amy Teichman
Hauntings – By Lindsey Klein
High Impact Testimony – By Elizabeth Weaver

[nggallery id=3]